Featured Item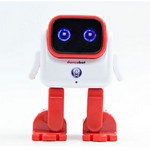 Dancebot Speakers
Exclusive Supplier! The world's first smart dancing robot speaker. It is a groovy robot that jives to the audio played through its speakers. Its intelligent algorithm allows it to process any audio pa...

Welcome!
Our company has been selling promotional products for more than 20 years, which make us leaders in quality, exclusivity, price and "on time" service.
QUALITY: Our products are 100% pre inspected before being shipped. Our goal is your complete satisfaction as well as your customers' or final users'.
EXCLUSIVITY: We represent the best and most exclusive brands in the market, and as a result we are known as "SIGNAL, the different gift".
PRICE: We offer you the best prices possible, due to our experience in volume and international markets.
TIMING: We are able to deliver your orders in as fast as 3 days (depending on the item), once we get the final art and customer approval. We are at your service; our main concern is:
A SATISFIED CUSTOMER!!